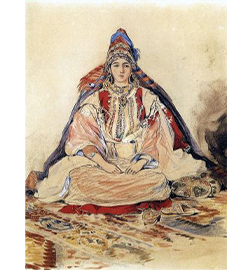 Berberisca Night Ceremonies New York That Are Unforgettable
If you're planning a traditional ceremony like the "Noche de Berberisca" or "Noche de Paños, " let Prosper Lankry Design Group take care of all the details. Along with securing a location, and developing Moroccan decorations in New York for your original Berberisca Night Ceremony New York of the Moroccan Jews, our New York City Moroccan Event Planners make this pre-wedding affair a breathtaking one. From Sephardic songs, or Judeo-Arabic music, fashion, delicious dishes, and pastries made with almonds and honey, Prosper Lankry Design Group can be sure no authentic aspect is forgotten.
The main event of the evening being the bride's entrance. As she walks through the doors, guests are enamored by how she is magnificently made up and dressed in the Berberisca dress called "Traje de Paños," or "Vestido de Berberisca" (Spanish), or "Keswa Elkibra." In Arabic, this means great or grand dress. We offer Moroccan clothing for your Berberisca Night Ceremonies New York. Let us provide this magnificent dress worn specifically for Berberisca Night Ceremonies New York including a wraparound skirt, heavily embroidered in gold, a gold-embroidered bodice, a fitted waistcoat, long detached sleeves made of embroidered tulle, and a wide brocade belt. The embroidered circles on the jacket symbolize the decoration on white shrouds from Tetouan, a city in Morocco.
Rather than wasting time and searching for the grand dress, utilize our Moroccan clothing Berberisca rental in New York so you can focus on enjoying this spectacular night. Contact us today at (917) 434-3889 or fill out the contact form and someone will respond promptly.